London Again
Jan 26, 2017
Uncategorized
2 comments
I went to London monnnnths ago, but never posted about it and now I'm swamped with graduation projects. . .
(WE GRADUATE IN FIVE MONTHS. *chews nails* I have to write at least 30 minutes of music, and work with a bunch of lighting and sound people, and it's going to be a weird, modern sort of project. I'll probably do a post about it when it's further along, since graduating art college is an adventure, let me tell you. Also, I just sent a revision to my editor.)
Anywho, in November I was in London with several family members.
Here's what we did:
We went to a store called Anthropologie. The whole time we were like, "Why would anyone buy this, but wow, iz preettee" which seems to be their business model.
A lot of time was spent looking at fabrics, which was the purpose of this trip.
My sister was mistaken for a Viking. We were at Tesco buying English junk food, and the sales assistant — who was so friendly — asked Sister if she was Norwegian. My new goal in life is to be mistaken for a Norwegian.
On this topic, Londoners are really nice. I'm surprised every time I go, because while I love Zürich, and it's my favorite, and I appreciate living in Switzerland more and more with every passing year, and there are lots of nice people in Zürich, it's not a friendly city as a whole. It's just not. But in London, ALL THE NICE PEOPLE were met and talked to.
Food was eaten. Some of it was good:
Some of it was less good. . .
We went to Penhaligon's. It's a perfume shop. I had never been before, but perfumes are becoming increasingly interesting to me, not really to wear, just to smell. They're like storytelling, but you can put them in a bottle.
We also had tea in celebration of a family member's birthday. It was delicious and there was cotton candy in a mystery flavor that you had to guess.
I guessed blood orange. The waitress was like: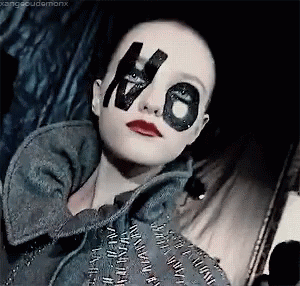 It was rhubarb custard, which, if you're wondering, tastes like blood oranges.
I didn't have a ton of time for sight-seeing, but I did go to the Dennis Severs House, which is a sort of time capsule house. I loved it. It's hidden on a side street in the STICKS of London (aka Shoreditch, ahahaahaha, not actually the sticks), and not many people know about it, and inside, it's as if you're walking through rooms that were just left by an 18th-century family of silk-weaving Huguenot. There's food on the tables, and newspapers and shopping lists, and the smells are proper, from the boudoir to the stale, sour air of the rented-out attic. What especially struck me was that it was really dark inside, even at midday. Lamps and candles only do so much. For some reason I never thought about that and always assumed they were basically the equivalent of modern lightbulbs, but they really, really aren't. So that was cool to experience.
Anecdotal evidence that Londoners are super nice #245: On the way to the Dennis Severs house, we asked directions from a very kind man. He said he didn't know where it was, but he would help us find it since he was going that direction anyway. Once he had spent about ten minutes walking us there, he went back in the completely opposite direction. (Basically . . . he was not going in that direction at all.)
Anyway, I love London. One day, I would love to live there.  Next week I'm going to Porto and visiting friends in Amsterdam, because I have semester break and need to spend some airline miles before they expire.
I haven't been doing much on social media recently, and it probably seems like I'm blithely ignoring world events and don't care about anything, but I do. The internet's just not my favorite place to talk about important things.
2 comments
---
2 Comments to "London Again"