Uncategorized
Hey! Hi. *waves* This is a super short blog post, because I'm in Prague and busy interning / eating all the Czech people's food / wandering graveyards, etc., but basically PALAST DER FINSTERNIS is out next week on August 23rd (hurray!) and I'll be flying back to Zürich for a short while on September 2nd to do a reading for it.
The info:
What and when:
September 2nd, 2017
14:00 – reading from the German edition of A DROP OF NIGHT (Palast der Finsternis)
Book signing afterwards
Where:
Zentralbibliothek Zürich
Zähringerplatz 6

Zürich
8001, Schweiz
(The reading is part of the festivities for the 100 Year Anniversary of the Zürich Public Library.)
If anyone I know from online or real life can make it, come say hi! 🙂 That would be awesome.
Speak up:
comment
Hiiiii. I'm writing this from a little tiny apartment in Novi Sad, tippy-tapping away, listening to Beethoven loudly to drown out the pigeons living in the ventilation, baking cookies on a panini press. I'll blog about this adventure later, but basically I need to have this re-write done by the end of the month, and there's still a lot to do, and I'm vacillating wildly between panic and ya know . . . the joys of writing.
After this, I have to fly to the US for a millisecond for my older brother's wedding. (Congrats, older brother!!) And then to Prague for the internship. And then back to Zürich for a reading. (Do I remember how to do readings? And how to speak Swiss German? AND HOW TO SIT ON A STAGE AND SAY WORDS? Doubtful.)
Some writing things:
I wrote a cabinet story! We're all kind of on hiatus and busy out of our minds, but I had it lying around so I put it up. It's gloomy and foggy, and in step with the cabinet story I wrote before it, since I wrote them both around the same time.
Two tidbits of book news:
A Drop of Night is out in German later this year, on August 23rd, in mah home country and other German speaking countries. It's called Palast der Finsternis there. And it can be pre-ordered here. And look at its beautiful cover:
Also, my short story for the Aarhus 39 is out now in an anthology by Alma Books, and can be ordered here. It looks like so:
And that's that!
*pigeons resume cooing aggressively*
*Beethoven SHAKING THE RAFTERS*
*distant yelling in Serbian*
Speak up:
5 comments
This is my last blog post as a college studennnnnnt. At least for a bit. I'm thrilled. I'll probably type up a college-y post sometime this summer where I blab about the past four years, and the many eccentric people I met, and the juicy, juicy gossip that was gleaned, and then I will read over that post and decide it must never see the light of day and delete it, so um . . . 👍
A quick writing update: I'm on re-write number five of my next book, and it's  super long, and it keeps getting LONGER, ack. I love it, though. It involves gods and monsters and the Moon, and a child with a creature living behind his ribs. I've just been really glacial at writing this past year, and I can't wait to be able to concentrate again after graduation. In the meantime, here's a mood-board of the general aesthetic, courtesy of all the fantastically talented artists with work up on Pinterest:
Vienna: I went to Vienna briefly for a friend's wedding two months ago, and this post is about that because I'M SLOW AT BLOGGING. It was only the second time I'd been. The first time was a super short 24 hour trip where I spent most of the time in a scorchingly hot TV studio in a warehouse. (It was a roundtable discussion of Literature and CultureTM and when we'd finished, one of the producers said "That's a wrap!" and the moderator was like "That's the most interesting thing anyone's said to me all day." 😂)
This time I had a bit of time to hang out with friends and sight-see and there was no TV studio involved, so it was great.
I also went to the alps last week to finish my grad thesis, which is now handed off, and which I'm very anxious about. Also, final grad performance is next week 13.6.2017, 20 o' clock / 8PM, in case anyone wants to come listen to the strange music of five chamber musicians and a 3-D printer. 🙂
Back to the alps:
The hotel was a bit Shining-esque. I met no ghosts that were recognisable as such. I also didn't use the elevator, though, so I can't say it's NOT full of blood.
And that's that! There are still a million things to organise for the performance next week and I'm moving away from Switzerland after graduation, so I need to hurry. In my next post I will be either a disgraced former music student with a flop final performance or a graduate, and either way I'll be off in foreign lands for work, and I'm very excited for all of it, whatever might happen.
Hope everyone's well! 🙂
Speak up:
5 comments
I haven't done a Tidbits and Interestings in a whiiiiiile, but I have lovely news!
First bit of lovely news:
I'm super honoured to say that I'm one of the 39 authors picked for the International Hay Festival for Literature in Aarhus 2017, which according to them is a selection of 'the best emerging writers under 40 in Europe.' That's very kind. This was just announced at the London Book Fair, and I'm pleased-but-also-surprised because I spend most of my life in the uni library with earphones in, so how do they know I exist? BUT ANYWAY, I'll be going to Denmark in October 2017 for the festival, and there'll be an illustrated anthology out this May in both English and Dutch with a newly-written short story from me called The Honeybee Cemetery.
I'm especially happy because I remember getting the email saying I was on the longlist, and I had to send a sample of writing that was going to be judged by people like Matt Haig, and I was like: "Matt Haig is very famous. I don't know what Matt Haig likes to read. What if I choose something he hates and in one fell swoop my writing career ends forever?"
So I labored over picking a snippet, and you know how when you think about things too much you make poor decisions that make no sense? So I ended up sending a piece of an obscure short story I wrote for Cabinet a few years ago, which . . . was probably quite weird and morbid. But then I got picked, so I'm very grateful.
Another nice thing:
A Drop of Night's paperback is releasing in the US this week! Kirkus called it 'bizarre and hugely suspenseful'. Publishers Weekly called it 'pulpy'. xD So, if you want some bizarre and hugely suspenseful but also pulpy French Revolution-y thriller adventures, you can now have them for cheaper.
(Publishers Weekly also called it 'polished and engagingly snarky', though, so at least it's polished and engagingly snarky pulp. *pats self-esteem delicately back into place* Also, here's a deleted scene if you are inclined toward reading deleted things.)
More nice things:
Switzerland's Friday Magazine picked me for their 30 under 30 innovators and artists. I'm very flattered, thank you.
Also, I'm in Zürich's Who's Who of 2017, which cracks me up, as I'm sure there are much who-ier people in Zürich, but thank you anyway.
Current Favorite Music:
This song is from the 50's, and I don't know what 'ticky-tacky' is but it's my new  favourite word. Also, I love that they used a Theremin in the orchestration. (You can hear the Theremin right at the beginning and throughout. It sounds like a very sad, muted violin.)
And that's that! I'm very grateful for all this good stuff, and for the people who suggest me for these things and read my stories and talk about them, and for my agent and publishers. Thank you, truly.
Speak up:
7 comments
(A portmanteau of Porto and Amsterdam, to continue the tradition of having blog titles that make no sense.)
(Also, I went to Porto, and I didn't go to Amsterdam.)
(Also, why didn't you go to Amsterdam when you said you would, and your blog title says Amsterdam in it, ya weirdo? the intrepid reader asks. Well, intrepid reader: my brother and his girlfran went to Amsterdam a few weeks before I was planning to go, and Brother said the food was gross and the air was gross, etc. etc., and while I don't really believe him, and I'm sure Amsterdam has lots to recommend it, I figured I would only go to Porto and then stay in Switzerland and work instead. So I did.
But Porto was a really pleasant adventure, too, and I'll just tell about that.
A list of Porto's fine features:
Houses and churches are covered with what look like pretty bathroom tiles. I don't know why this is, but I think it's very forward-thinking and hygienic, because this way you can just hose down your house or church when it's looking shabby.
Porto has a great graveyard that looks a bit like a city. I think I talked about this before on this blog, but graveyards are interesting places, and I highly recommend visiting one in every country you go to. They're all different and yet the same, blabla, philosophical tangent about the universality of death, but mostly I just like to walk through the tombstones and look at the birth dates, and imagine who the people were when they were alive, and all the strange things they must have lived through. Sometimes I write down the names and google them later, and find interesting stories that way.
I met Brazil's minister of defence. I wish I were joking, but alas . . . He was downstairs in the lobby of the hotel I was staying in, together with a bunch of generals and important-looking people, and I didn't know this, and by time I realised this, I had already slopped halfway across the lobby in sweatpants to get to the teeny tiny gym in the basement, and there was no turning back, and they all peered at me curiously. It was not my proudest moment.
(*Google tells me he was there for a conference. I didn't stop to ask. I saw the welcome banner much too late to do me any good.)
On the subject of meeting interesting people: there was an elderly gentleman who pulled me aside on the street and started talking to me at length, ignoring all my Awkward Shrugging in American, and in the end I just listened to him until he was finished. I'm still sad I have no idea what he said. I think it must have been very wise, though, and he probably told me the secret of all existence, and now I'm going to have to learn the hard way, when it probably would have been easier just to learn Portuguese.
I was offered baggies of drugs four times, which is quite a lot for one trip, I thought. The cab driver warned me this was a thing, so it wasn't really surprising, but it was funny for how often it happened. Basically, perfectly respectable-looking people size you up keenly as they pass, decide you look sad and prone to addiction, and then circle back, holding their hand palm-out, while going like:
And you're like "AHAHAHA, *awkwardly slides past them, because you don't want to get arrested*. I think they just offer it to anyone who looks foreign/young/and-or-male, which in their mind seems to equate stupid-enough-to-buy-baggies-of-unidentified-substances-in-broad-daylight-on-the-street-in-a-strange-land . . . which actually would be my plan of action, too, if I were a Portuguese drug-dealer.
But enough about drugs, this is off-brand, I write CHILDREN'S BOOKS.
Portugal was really pretty. See how pretty?
The food was great. There were lots of sardines, pastries, codfish, chocolate cake, and this sandwich called 'Francesinha', which is Porto's famous dish, and is delicious. The picture I got of it didn't do it justice, though, so here's a burger I had instead.
I have Instagram now. I don't entirely know how to use it. Like, I can't figure out how to import contacts, so I'm only following people when they pop up in my recommended box, but what if they DON'T POP UP? I'm such an old-person-confused-by-technology. Anyway, I'm not sure how much or little I'm going to end up using it, and it will probably take me a while to get the hang of, but there it is if you so please.
Bye. 🙂
Speak up:
1 comment
I went to London monnnnths ago, but never posted about it and now I'm swamped with graduation projects. . .
(WE GRADUATE IN FIVE MONTHS. *chews nails* I have to write at least 30 minutes of music, and work with a bunch of lighting and sound people, and it's going to be a weird, modern sort of project. I'll probably do a post about it when it's further along, since graduating art college is an adventure, let me tell you. Also, I just sent a revision to my editor.)
Anywho, in November I was in London with several family members.
Here's what we did:
We went to a store called Anthropologie. The whole time we were like, "Why would anyone buy this, but wow, iz preettee" which seems to be their business model.
A lot of time was spent looking at fabrics, which was the purpose of this trip.
My sister was mistaken for a Viking. We were at Tesco buying English junk food, and the sales assistant — who was so friendly — asked Sister if she was Norwegian. My new goal in life is to be mistaken for a Norwegian.
On this topic, Londoners are really nice. I'm surprised every time I go, because while I love Zürich, and it's my favorite, and I appreciate living in Switzerland more and more with every passing year, and there are lots of nice people in Zürich, it's not a friendly city as a whole. It's just not. But in London, ALL THE NICE PEOPLE were met and talked to.
Food was eaten. Some of it was good:
Some of it was less good. . .
We went to Penhaligon's. It's a perfume shop. I had never been before, but perfumes are becoming increasingly interesting to me, not really to wear, just to smell. They're like storytelling, but you can put them in a bottle.
We also had tea in celebration of a family member's birthday. It was delicious and there was cotton candy in a mystery flavor that you had to guess.
I guessed blood orange. The waitress was like: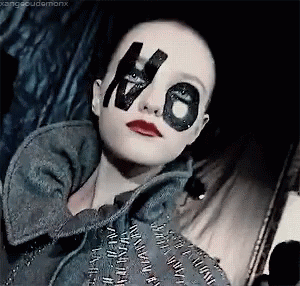 It was rhubarb custard, which, if you're wondering, tastes like blood oranges.
I didn't have a ton of time for sight-seeing, but I did go to the Dennis Severs House, which is a sort of time capsule house. I loved it. It's hidden on a side street in the STICKS of London (aka Shoreditch, ahahaahaha, not actually the sticks), and not many people know about it, and inside, it's as if you're walking through rooms that were just left by an 18th-century family of silk-weaving Huguenot. There's food on the tables, and newspapers and shopping lists, and the smells are proper, from the boudoir to the stale, sour air of the rented-out attic. What especially struck me was that it was really dark inside, even at midday. Lamps and candles only do so much. For some reason I never thought about that and always assumed they were basically the equivalent of modern lightbulbs, but they really, really aren't. So that was cool to experience.
Anecdotal evidence that Londoners are super nice #245: On the way to the Dennis Severs house, we asked directions from a very kind man. He said he didn't know where it was, but he would help us find it since he was going that direction anyway. Once he had spent about ten minutes walking us there, he went back in the completely opposite direction. (Basically . . . he was not going in that direction at all.)
Anyway, I love London. One day, I would love to live there.  Next week I'm going to Porto and visiting friends in Amsterdam, because I have semester break and need to spend some airline miles before they expire.
I haven't been doing much on social media recently, and it probably seems like I'm blithely ignoring world events and don't care about anything, but I do. The internet's just not my favorite place to talk about important things.
Speak up:
2 comments
Oh, internet. How I do love abandon thee for vast quantities of time. This post feels a bit weightless in light of current events, but a reader emailed me last week and asked why I'm such a sporadic twitterer, and where were the blog posts like in the olden days, and helloooooo (except they were way nicer about it, BUT I UNDERSTOOD.)
So, here's a quick life update. I'm revising my next book. I wrote a thing for a secret thing that I can't talk about yet but that is very exciting. School restarted. I'm prepping for my graduate performance. I went to Prague. I'm pretty busy.
It's the weird type of busy where there are no tangible results, and it's just nose to the grindstone, which I like, but I realise that unless you're a close friend or family member it will just be like "STEFAN *hand clap* WHAT R U DU."
That being said: I went to Prague a few weeks ago. I will probably move to Prague for a wee bit after military/graduation to work as an intern. This will be an ADVENTURE.
Here are some Prague pictures:
And that's that! I'll try post a few more times before the end of the year. Also, I'm going to London today for a family thing and I know I blog about London all the time, but if anything wildly interesting or delicious-tasting happens I'll do another one.
Hope everyone's well-ish. Bye. 🙂
Speak up:
1 comment
This summer ended up being much more travel-y than I was expecting, which is HARD, I know, let's all have a moment of silence and form a healing circle. But in all seriousness, I was super happy to get home and sort myself out.
I got back from the US recently, which was one long panic attack for basically no reason. Well, maybe some reasons. (Like listening to crazy presidential candidates scream 24/7 via radio/ads/your private telephone; someone should report them for noise pollution.) But no specific, blog-worthy reasons. Oregon is gorgeous and full of good food, and good people, and I'm always happy to be back. And there were no airport shenanigans either! (In fact, PDX has the nicest TSA. For real. JFK, GET YOUR NOTEPADS. We got selected for extra security scrutiny because we're lucky like that, and the guy who patted us down basically told his whole life story and asked how the fishing was in Lake Zürich. 😂)
But I'll start at the beginning! London!
I've done tons of London posts in the past, so this time I'll just do some pictures of the Victoria & Albert Museum, which I had never been to before and which is fantastic. I do very much recommend it, if you find yourself in London. It felt like it had a wider variety of displays and subjects, so especially if you're traveling with multiple people with varying interests, it's a way better bet than the British Museum. It had sculpture and paintings and jewelry and costumes and furniture and libraries and curiosities and all the interesting things. I loved it.
I also met up with Emma Trevayne, which is always lovely. And then I went to all the galleries. Walked lots of miles. Ate much good food, including a shrimp burger. (Shrimp burgers, I have discovered, are the best invention since non-shrimp burgers. If you see one, get one.)
And then it was off to Oregon!
And then it was back home to Switzerland! Whenever I get back here I wonder why I even travel in the first place when Switzerland is so pretty and perfect. And then a day or two later I want to be traveling again, but seriously. So, so pretty.
I also met a pig, back in Switzerland. I thought you should know.
And now, Things!
Cabinet of Curiosities has re-opened its creaky little door and thrown wide its musty windows, and my new story is up! It's called Red Raincoats, and it's really dark, but I couldn't figure out how to make it not dark after the starting point, so. . .  ¯\_(ツ)_/¯  Also, wonderful stories by Katherine and Emma are up from the past few weeks, go read them! Welcome, welcome!
I'm trying to post more often on my Soundcloud, for fun and practice. There's something a bit insulating about just writing for teachers, so hopefully I'll be uploading more often there in the future.
I'm working on the Monster Middle Grade BUSILY. I have revision notes from Awesome Agent and Awesome Editor, and as usual, they are much smarter than I am, and as usual I wish I could have realized all these things *before* they had read it. But oh well, I love this story, and these characters, and I love working on this more than I've loved working on any of my other books.
Hope everyone's hale and happy. 🙂 Bye.
Speak up:
1 comment
Italy post! I hadn't been to the more southern parts of Italy in a lonnnnng time.
I went as a kid, saw Pompeii, basically fell off the cliffs of the Amalfi Coast in a bus, visited every museum ever, wandered around the Vatican while my mom argued with a cardinal (true story; and probably a funny one, had ten-year-old me bothered paying attention . . . Since ten-year-old-me was dumb and didn't, here's the gist: we were visiting the Vatican, Mom was chatting with a cardinal who she had met due to a mutual acquaintance, and since we're not catholic I'm assuming she disagreed with him about everything and let him know.)
This time Rome was very different and less enchanting, which I'm chalking up to me being dull and old and less enchant-able. I adored Rome the first time I went, and my memories of it are still some of my favourites, but this time I just kept noticing how crowded it was, how everything caters to tourists, and how some tourists treat the city like it was built to amuse them, giving the Pantheon star ratings and such. Hello, the Pantheon doesn't care whether you think it's a one-star visit or a four-star visit, Sally from Topeka.
Someone else called the Quirinal Palace "a less impressive version of the White House."
It's literally twenty times the size of the White House and centuries older. You flatter yourself, sir. . .
Anyway, Rome was not my favourite, and it's probably not a good idea to return to places you have fond memories of, because it just won't stack up. That said, I loved Florence – had never been before – and Venice I liked even more than last time. Italy is so hot in the summer, but Venice was cool and had a nice sea-breeze and was just being its usual dreamy self. We ate crab gnocchi, and gelato, and I wrote on the pier and it was great.
Here are a billion pictures!
Rome
Florence (aka, where we ate all the food)
These next pictures are all from the Uffizi, which if you go to Florence is so worth seeing. The lines are endless but goooooo. Once you're in, you'll be happy.
This part of Botticelli's Primavera used to TERRIFY ME. Look at that creepy, dead-skinned person jumping out like a freak.
Venice
¯\_(ツ)_/¯
And that's that! I just got back from a very short trip to London, but I've done so many London posts, I'm not sure I'll do one this time. I'll see if I got any good pictures. Hope everyone's well! Bye! 🙂
Speak up:
5 comments
Hii! 😀 *shouts into the echoing abyss* I haven't blogged in months. (But also, the old blog, Scathing Jellyfish, is still getting thousands of pageviews despite being no updates, so perhaps the secret to successful blogging is being lazy and never posting? In which case I shall be the MOST SUCCESSFUL.)
Anyway, this will be a rambly, update-y post before summer begins and interesting things happen.
– I'm in Rome right now. I said a few blog posts ago that I wasn't going to do much travelling this year, but an American cousin is doing the obligatory Europe tour, so I'm going to London and a few Italian cities with her, and then to the US briefly. I cannot say no to London, and I can also not say no to eating inordinate amounts of gelato in Italy.
– I had a ton of finals these past few months which is mainly why I haven't been on social media much. (That, and the fact that the world is being particularly sad and crazy lately, and I just don't know how to deal with it half the time.) I passed the tests, though, (yay!) and will be heading into my last year of college this Fall. Very excited for that. Mostly excited to be done. Even though once I graduate I'll probably be like "Adulthood is rubbish and I've been duped and would like to be a sheltered art student forever, please."
And my college will throw wide its doors and say "Why, yes, just enter for two more years for a master's degree," which I'm not 100% sold on doing, because I think it's a bit silly to presume you're a master of art just because a college gave you a piece of paper. Like, no. Sit down.
Speaking of schools and masters: I was walking through the master student's exhibitions this year, which is where the master graduates display their graduate work. And which I'm not bashing at all, btw, despite the above statement. The ones I saw was very cool. But I was mostly interested in the people.
The audience was about evenly split between suburban families looking around in bewilderment, wondering what in the world they had unleashed upon society with their Hellspawn Artisté Children, and the other half was intelligentsia in flow-y clothes who were probably thinking the same thing, but that would be super awkward to admit so they acted like they get everything.
Which is funny because all the Hellspawn Artisté Children are looking at the intelligentsia like "You're 90 years old, and you can't possibly understand my youthful fire," and the intelligentsia get bitter and are like "KIDS THESE DAYS," and really everyone just desperately wants to be a part of things, or at least a part of the people who are not a part of things. It breeds all the drama, let me tell you.
For example: one time a toilet with a fluffy pink seat was set up in the lobby of the college WITHOUT A PERMIT. *gasps all around* I think in response to some sort of new rules from the school board. And that caused drama and firings and school-wide email chains, which all the uninvolved students followed blithely, despite not having a clue what was going on.
I don't know what the pink toilet meant exactly but there's a running joke that if you don't understand a particular piece of art, it signifies world peace.
So, leaning tower of rubber tires topped with windshield? World peace.
Vomit on the steps? World peace. (Or alcohol poisoning, but like, who are we to judge the artist's methods?)
That fluffy pink toilet? World peace for shoaaaaaah.
– In non-school-related news, Cabinet of Curiosities will be returning this July!
We took a long break because we've all been busy with different projects. But now we'll try another round, and new weird stories will be posted this coming month!
Anyway, I hope everyone's doing well! 🙂 I'll blog Italy adventures soon.
Speak up:
6 comments